The Golden Scepter
Season 1, Episode 3
Episode guide
Previous
BFF
Next
Gold Fever
Description 
Edit
Sparrow is stuck in her beast form right before her big date with Edward! A harpy named Nelos seeks to obtain the Golden Scepter, and is blackmailing Sparrow for the location of it! Will Tara and the Alpha Team be able to stop Nelos and turn Sparrow back in time for her date?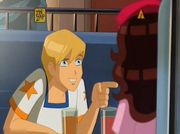 Ad blocker interference detected!
Wikia is a free-to-use site that makes money from advertising. We have a modified experience for viewers using ad blockers

Wikia is not accessible if you've made further modifications. Remove the custom ad blocker rule(s) and the page will load as expected.