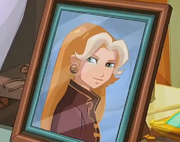 The daughter of Isabella, the granddaughter of Manitou, and the mother of Tara Duncan. She was (or is) a powerful spellbinder who has defeated Serena/Selenba many times before. Whether she is alive or not is not known.
A prisoner of Magister, who was set free in the first book.
Family Gallery
Edit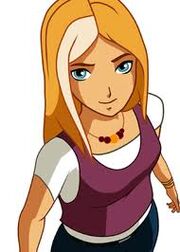 It is unknown whether she is alive or not.
It is implied that she married a non-spell.
She is sworn enemies with Serena/Selenba, as she has stopped the vampyre's plan to rule the earth.
Her father is implied to be a dark blond, as her mother, Isabella, has light blonde hair.
She was dark blond with two light blond bit and her eyes were blue, like her daughter Tara Duncan. She's got a long jacket purple with grounds golden, the color of the peacock to eyes gold of Omois.