Mr. Spade

The Beloved English Teacher

Name:

Mr. Spade

Species:

Nonspell

Occupation:

English Teacher

Love Interest:

Isabella Duncan
Description
Edit
Mr. Spade is Tara`s English teacher at school. He teaches a difficult class, but he is well-loved by all his students, especially Tara. He is kidnapped by Baron Boris Burogoff in Cyrano Of Otherworld.
Relationships
Edit
Isabella: He is romantically interested in Isabella, becoming infatuated when seeing her picture and falling for her after rescuing her from Baron Boris Burogoff. Unfortunately, Isabella was forced to cast a mentus on him, but the infatuation appears to still remain.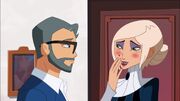 He is the only nonspell teacher shown so far.
He appears to show slight favoritism to Tara.
Ad blocker interference detected!
Wikia is a free-to-use site that makes money from advertising. We have a modified experience for viewers using ad blockers

Wikia is not accessible if you've made further modifications. Remove the custom ad blocker rule(s) and the page will load as expected.