Description
Edit
The dragon that Master Chem is accused of fleeing battle from in Master Chem's Honor. It is a simple misunderstanding, as both dragons are under the influence of Lord Minster.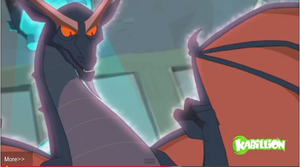 Appearance
Edit
Kouzu is described as being a large dragon with black scales.
His name in Japanese means "Composition".
He is the second dragon in the series, but the total of dragons is five.
Ad blocker interference detected!
Wikia is a free-to-use site that makes money from advertising. We have a modified experience for viewers using ad blockers

Wikia is not accessible if you've made further modifications. Remove the custom ad blocker rule(s) and the page will load as expected.