Description
Episode 19
Tara and Sparrow invite Edward and The Cryista Brothers to a game night at the Manor while Isabella, Master Chem, and Cal are away on Otherworld for a convention. Sandra and Livia crash the party after running into the boys on their way there. However, they aren't the only ones attempting to crash the manor! A group of werewolves seem to have it in for Manitou and are attempting relentlessly to get in for revenge.
Meanwhile, Isabella and Master Chem are arguing on the hotel.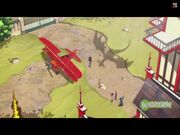 Ad blocker interference detected!
Wikia is a free-to-use site that makes money from advertising. We have a modified experience for viewers using ad blockers

Wikia is not accessible if you've made further modifications. Remove the custom ad blocker rule(s) and the page will load as expected.