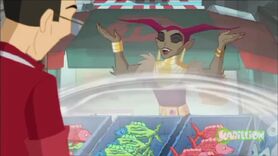 Description
Antheos is a good vegetarian harpy helping Master Chem to overcome Isabella in a combat. She is fond of fish and does not quite get that it is bad to take stuff from others.
She owes Master Chem a favor, so he asks her to come to Rosemond and attack Isabella after their magic duel. Isabella would then have to rely on Tara, who would then get the chance to show her prowess in magic.

She appears in the episode Summer School.
Ad blocker interference detected!
Wikia is a free-to-use site that makes money from advertising. We have a modified experience for viewers using ad blockers

Wikia is not accessible if you've made further modifications. Remove the custom ad blocker rule(s) and the page will load as expected.